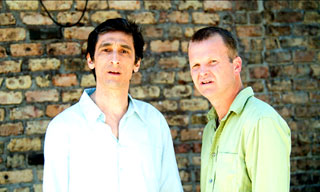 Trust Us, This Is All Made Up

David Pasquesi and TJ Jagodowski are masters of improvisational theater. For years now, they've been creating a long form improv show from nothing. No audience suggestions, no props. They just look at each other and start talking.
Trust Us
is a record of one performance bookended with Paquesi and Jagodowski in the hours before and immediately after a show. While the improv itself, blossoming to seven distinct characters, is impressive and very funny, the framing sequences are revelatory. To these guys, they're merely walking into a story that is already in progress and will continue after their gone. Their job is to play it out for the hour they are in front of the audience.
The day before this screening, I saw Paquesi and Jagodowski perform live at an Austin improv theater. While I would subjectively call the live show better, this is merely because of the particular subjects covered. The film is it's own entity and can be appreciated by improv newbies and veterans alike. The Q&A afterwards revealed that if they film ends up on DVD, a whole second performance will be included. So distributors hop to it!
Passing Strange

I've struggled with how to organize my thoughts about this film. It's great, just hard to put into words. So I revisted the notices from Sundance that spurred me to see it and realized that the AV Club's
Rabin
and
Murray
said it all much better than I could.
Director Spike Lee was at the (poorly attended, see Murray's fears on that one) screening and talked a bit about how he became involved. He was a fan of the off-Broadway (then Broadway) run of the show, seeing it many times. When the show's attendance started to decline and it was clear it was close soon, Lee stepped in to document it so it wouldn't be "lost". Hooray for him because Passing Strange is an amazing, deeply personal piece of theater and deserves a wider audience. Transcendent is the perfect descriptor here. I'm very glad that I got to see it on a big screen at the Paramount.